This year we decided to try something new for Christmas and ditch the cold weather of Utah and trade it for Sunny San Diego. We spent or first two nights in San Diego at Santee Lake RV Park. It was beautiful (and quite) but we didn't get to spend much time there.  They had a nice big pool, but it was too cool to swim, and fun activities at the lakes and in the club house.  It was an RV park that could have been a vacation destination on its own with warm summer weather.
Traveling in an RV has it's pro's and con's but I mostly think it is REALLY GREAT! One thing I loved about having the motorhome on this trip was that when we were ready for lunch we didn't have to buy expensive park food, we just went out to the RV and had anything we wanted, even hot food. We could even take a nap mid-day if we wanted, and Johnny would fall asleep on the way to our park and it was no problem.
I think RV parks are quite fantastic. At RV parks we are comfortable, happy, and paying $50 or less per night. After staying at Santee Lakes we moved to the San Diego Metro KOA.  It was easily our favorite! It had a huge heated pool, and hot tub, a little restaurant and store, as well as other fun family activities, including the fun-bouncing pillows pictured below.  I wish we would have planned a little more time to be at the RV parks. The final park we stayed at, Sweetwater, didn't have as many perks as the first two, but it was on a hill with a nice view and had some fun play grounds if we would have had the time.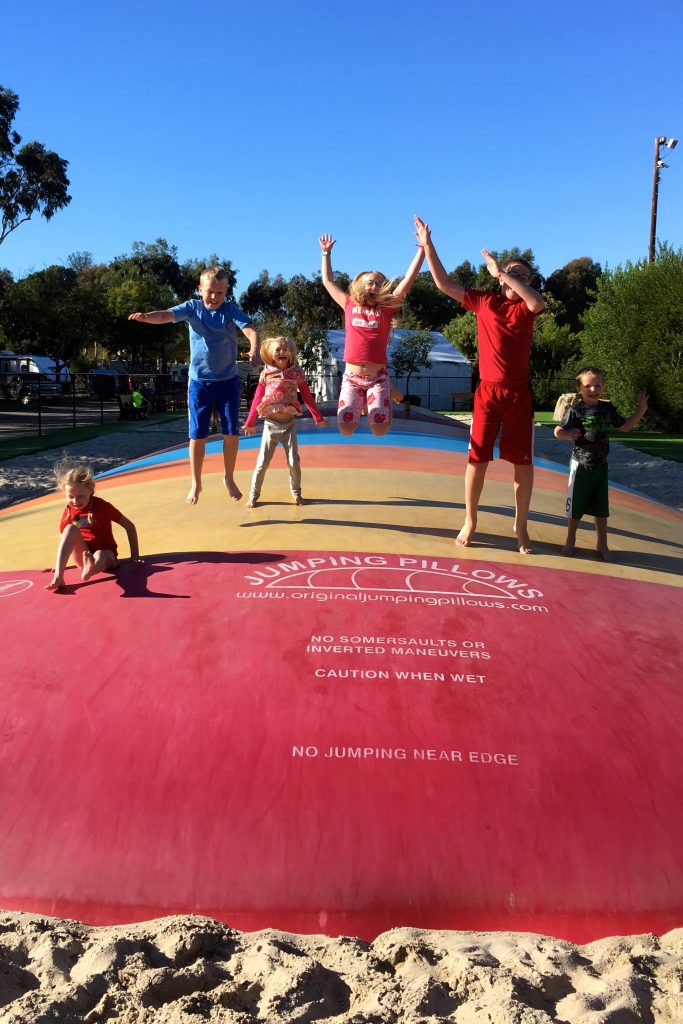 SAFARI PARK –
We went to the Safari Park, part of the San Diego Zoo (although 40 minutes away from the zoo itself) on Christmas Eve. The Safari Park is a breeding facility for endangered animals.  Despite the cool weather we had an incredible experience, with the park to basically to ourselves, even the baby cheetahs.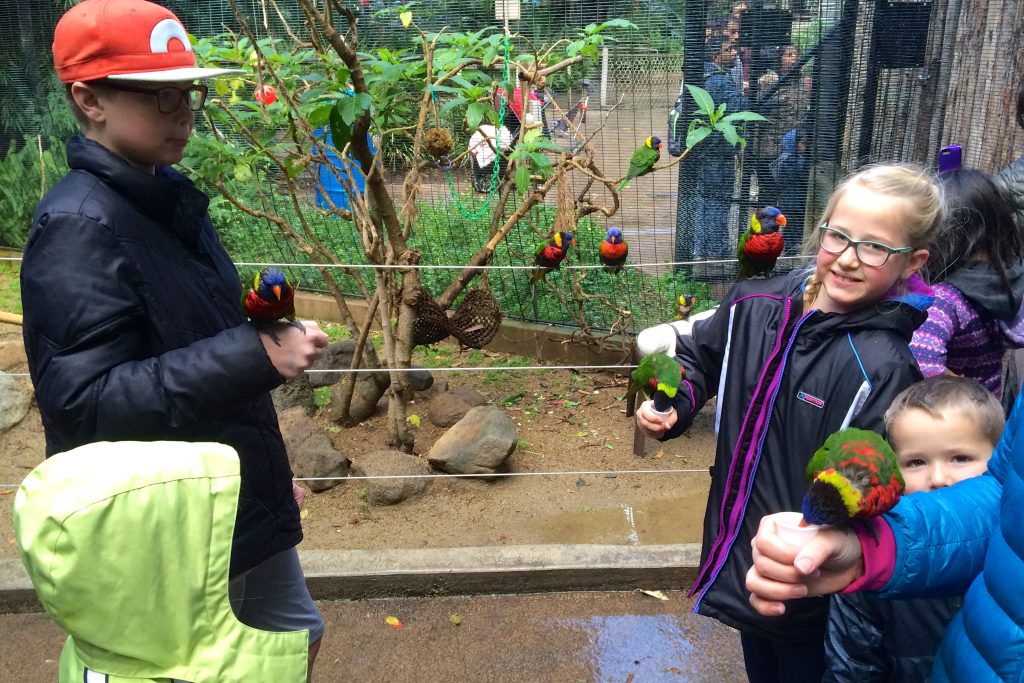 A highlight of Christmas day (and even the trip) was going to the Mormon Battalion Museum.  It was interactive and exciting! The children were 110% engaged.  It was fantastic and even ended with panning for gold!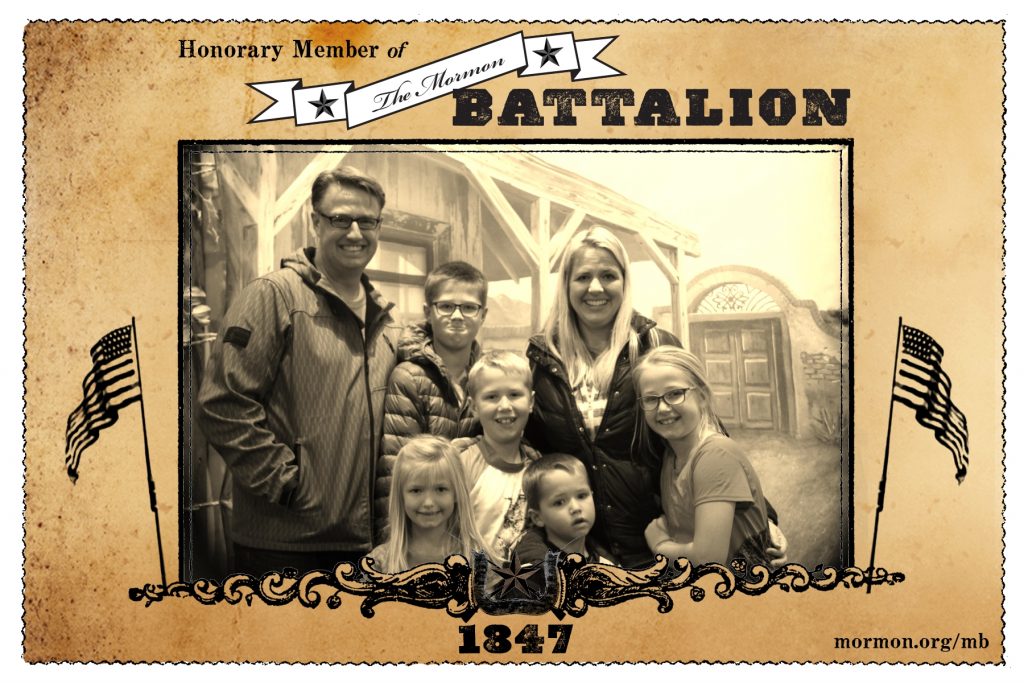 SEA WORLD
Sea World was easily the kid's favorite park.  They LOVED it! We spent two full days there, and they would like to have gone back for more.  I loved it too.  At every show I thought, "that's got to be the best show." We were prepared with rain ponchos for those who wanted to sit in the splash zones, and despite the crowds we had great seats. This summer they are going to make major changes to the killer whale shows and display them in a more "natural environment."  It was amazing to see the performances and especially magical to see the Christmas show.
The kids LOVED the pools where they could touch sea life.  They spent hours touching the stingray's, sharks, and sea urchins, and letting little fish nibble on their hands.  They just kept going back for more.  Caleb was even quick enough to give a dolphin a little pet.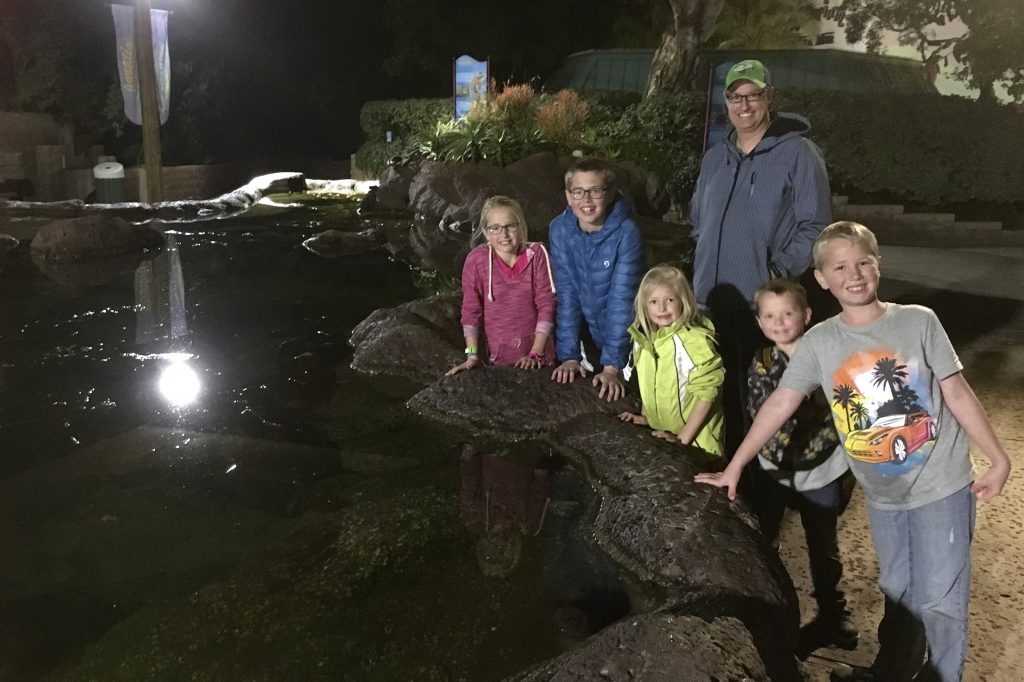 Another bonus of Sea World over the zoo's is that there were a few rides.  They had a really great roller coaster and the line disappeared just before the park closed so we got to go on it five times. We were well prepared for the water rides and went to them early before the line got long. It is a good thing we were prepared, otherwise I would have been completely drenched!! We got our fill if everything. Of course going for two days helped!  Sea World also did a great job or celebrating Christmas with decorations, lights, and adjusting the programs for the season. We had a great time!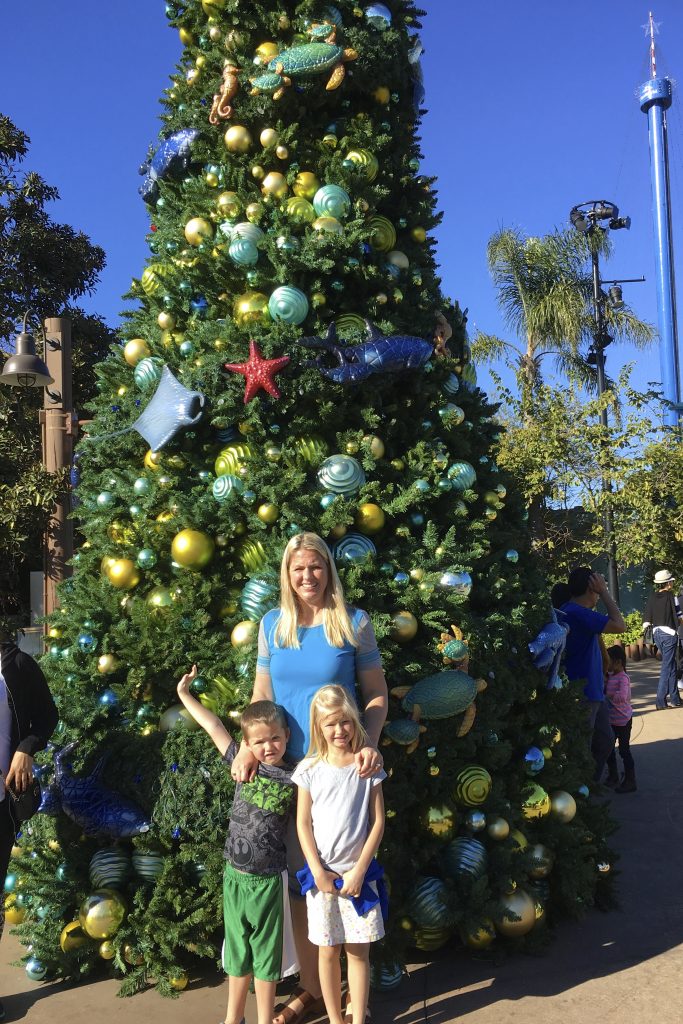 SAN DIEGO ZOO
I've never thought of myself as a zoo person, but I was completely amazed by the San Diego Zoo. The first thing that struck me is how beautiful and clean it was, despite the huge crowds.  We spent one evening and one morning there and certainly didn't see it all, but we did hit the highlights.  I think the kids were a little tired of parks (and maybe just a little tired) so they were less impressed than Josh and I were.  We could have spent so much more time there.
It doesn't really work out to take pictures of animals. I just tried to enjoy the moments, but we saw some incredible things.  We saw hippos swimming and then get out of the pool. We saw bats climbing around their cages just like monkeys.  We watched 600 pound tortoises that were over 100 years old munch on their breakfast. We saw a strange cousin of an alligator and a crocodile, whose species name I cant remember, eating fish as they swam by.  We searched for incredible camouflaged insects. We saw pandas and rhino's, and many many other rare animals that I'd never heard of and certainly never seen.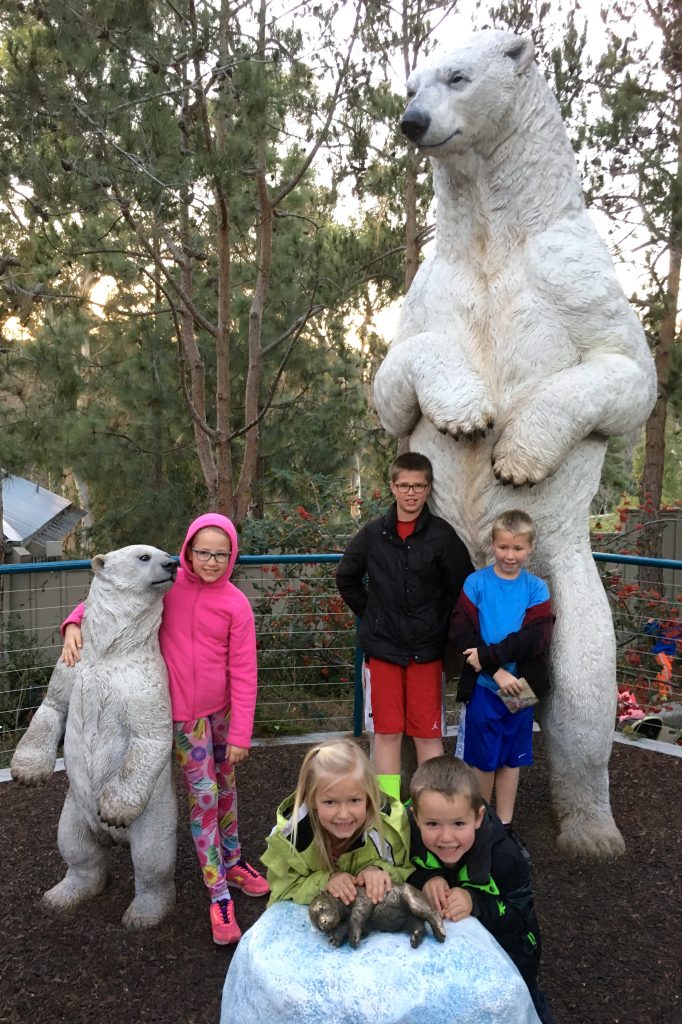 Before closing they had an awesome parade of giant puppet animals with 4-8 people costumed and running some of them.  It was short but well choreographed and worth the wait especially for us since we went out to the RV and had dinner and went back in to the park just in time for the parade.
BEACH TIME
The weather was in the mid-seventy's for a few days and we took advantage by spending an afternoon at the beach just south of Del Coronado. The weather was beautiful and the sand was great.  The kids didn't seem to even mind the freezing cold water too much.
The crazy thing was the SAND DOLLARS.  Cara brought me one and I told her it was her lucky day, then she brought me another, when she brought me a third I thought it was a miracle.
Caleb got wind of it and quickly came back with four more.  We went home with more than 100 unbroken sand dollars!! I'm going to take it as a sign that 2017 is going to be our lucky year!
We wanted to go to Joshua Tree National Park on the way home, but apparently New Year's weekend isn't the time to go there.  There we warnings posted online that the line to just get into the park was more than an hour long so we decided to bag that and spent a little time in St. George on the way home.
Before taking this trip I was a little worried about driving such a big vehicle in Southern California, but it wasn't a problem at all. It was worth it to pay a little extra for parking for the convenience of having everything we needed right at our fingertips!