I believe in planning road trips in the RV with an end vision in mind.  However, our trip to see the Mormon Handcart Pioneer Sites this fall was especially purpose driven. We wanted to help our children to appreciate the sacrifice that was made to allow the to live their wonderful lives, and to help them to understand that life is not always intended to be easy.
We started out our road trip at the Utah Olympic Park ropes course in Park City.  We went a few years ago and the kids have been begging to return. We started with the beginner ropes course.  Josh was too big for the beginner course so he really wanted to do the intermediate course.  As we watched him the kids decided they wanted to try the intermediate one as well.  It was a fantastic start to a purpose-filled trip to help them to realize that they can do hard things, and that there is joy in overcoming ones fears.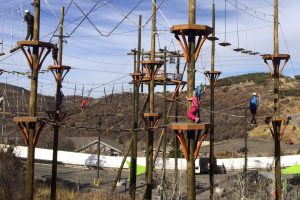 One of our pit stops along the way to Martins Cove was Fort Bridger.  I thought it was well worth the time to stop.  In fact I could have spent much longer there just enjoying the beauty and imagining the events that took place there.  I was impressed with the preservation of the Fort and the history was actually fascinating to me.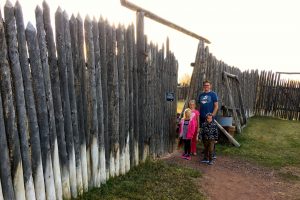 It was October 19 when the blizzard hit that left the Martin and Willie Handcart companies stranded and the Sweet Water River frozen solid. We spent the day of October 21 at Martins Cove and luckily the weather was beautiful. We were comfortable in jackets as we did the five-mile round trip walk to the cove. It is incomprehensible to me the suffering that these handcart pioneers experienced with 145 of the 600 loosing their lives from the most unimaginable conditions. It was our intention to create an opportunity for personal spiritual experiences.  I don't know if they received that, but it was a nice day.  They were present and they participated. I believe that they will at least look back on the experience with fond memories. We had fun pushing, pulling, and even running with the handcart.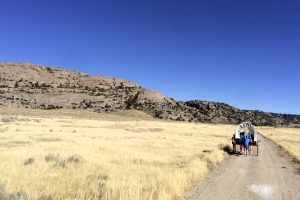 The kids seemed to especially enjoy our time at Independence Rock.  It may have been because they weren't being asked to be reverent. If you look closely at this picture, the little specks are the kids running up the 13-story rock. While they climbed over (multiple times) I took the opportunity to walk the mile around it, mostly by myself.  I think it is having quiet moments, no matter the venue, that provides opportunities for the spirit to speak. It was surreal for me to see a heard of pronghorn's and watch a bunny as I was considering the names, dates, and experiences of those who left everything they knew for hope of something better in a new country.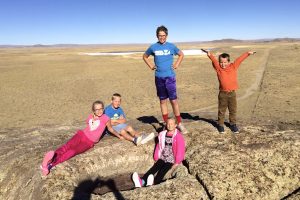 The entire trip I kept thinking to myself that God attended to the people of those handcart companies as they suffered, but why did he allow that severity of suffering to happen? Why didn't he give them beautiful weather like we had? I'm sure I don't know the answer, but one possibility is that countless others have found strength to endure and to press forward through difficulty by studying the handcart pioneer stories, especially the stories of those two companies that suffered so much. It sure puts life into perspective!
Our next destination was Rock Creek Hollow where 13 of the Willie Handcart Company were buried following their ascent through Rocky Ridge.  They were forced to walk, some of them up to 28 hours, through the blizzard over Rocky Ridge, until they reached Rock Creek Hollow because if they stopped they would freeze to death.  One thing that struck me is that they did, they all kept walking until they reached camp. Then, that night, due to exhaustion, starvation and exposure 13 of them died. The amazing thing is that they made it to camp. So much can be learned from their determination.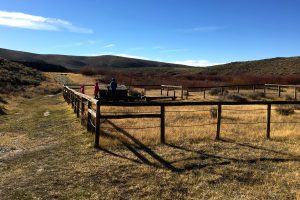 Unfortunately the historical mining towns of Atlantic City and South Pass were closed for the season.  It looks like there are some cool things to see there. We enjoyed a few bonus stops along the way home. One surprise was Fossil Butte National Monument where we saw hundreds of fossils. It was awesome!
We spent our last night in Bear Lake to enjoy a little down time where we weren't on the go every minute. It is fun to be together in the motorhome. The kids play games together and we snuggle up and nap on the bed in the back.  It is nice to have the flexibility of stopping to sleep "wherever we get."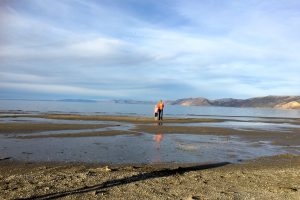 Our final stop on the way home was at Tony's Grove.  It was on my list of things to do this summer. Better late than not at all.  There was snow, but it wasn't cold.  We even took the walk around the lake.  It was so beautiful!!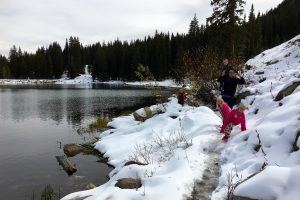 I am grateful for my pioneer heritage and for the legacy of determination, hard work, perseverance, and most of all testimony that they have left for us. I hope that my children will treasure the memories we have created on this trip and when times get difficult for them they can turn to the things that they learned and felt to strengthen them.