We went to Glacier National Park the last week of June because we had just attended a wedding in Northern Montana. Sadly we couldn't drive the main portion of Glacier, Going to the Sun Road, because we were in an RV and the park bus system didn't open until July 1 so we really only experienced a very small portion of Glacier, but what we did experience was beautiful! Our travel route took us on highway 2 along the lower part of the park.  There were some cool lookout spots, and Cara's favorite part of the trip was climbing this awesome waterfall along the way.  We just happened upon it and spent some time playing there.  It was perfectly cascading for climbing and looked like fun so we let the kids do it.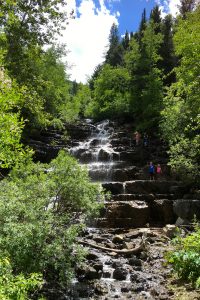 We stayed at Apgar campground on Lake McDonald.  One highlight of the trip for me was riding bikes along the bike trails around the campground, visitor's center, and lake.  It was the first time that everyone in the family had a bike, and I loved doing that all together.  The lake was beautiful.  Andy could have skipped rocks for hours.  We did go to a ranger program about animals of the night and learned mostly about bats and owls.  With our new found appreciation for bats we went out that night and watched the bats buzz the lake.  It was so fun to experience!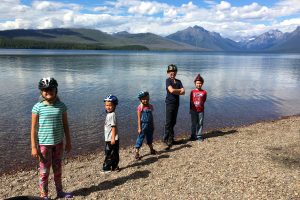 We got some new hammocks and Apgar Campground was great for "hanging" around!  We took our time in the morning and then the kids had a fun time "polar bear plunging" into Lake McDonald.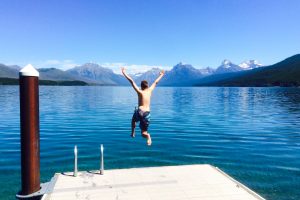 Driving from East Glacier on was all breath taking.  Our drive on Monday was just about three hours from West Glacier to Lookout Pass Ski Area on the Montana Idaho border.  We spent the night in the parking lot so we would be ready to bike the Route of the Hiawatha on Tuesday morning. Josh regretted not jumping in Lake McDonald so we stopped for a dip and picnic dinner at Flathead Lake on our way to Lookout Pass.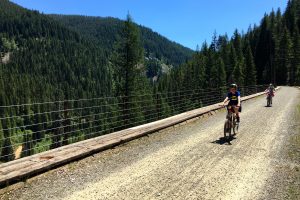 One of the many really fantastic things about traveling in the motor home is that we don't eat out.  I LOVE eating out, but with a family of seven it just isn't that fun.  I stress about how much it will cost, and the kids would rather have their basic foods.  I plan great meals and cook a hot dinner every night.  We have pancakes, French toast or cold cereal for breakfast and sandwiches and fruit for lunch.  It is SO HANDY to stop for a picnic whenever we get hungry.  I don't have to worry about where we will eat or the closest restraint. (Josh won't eat fast food.)  We stopped by a grocery story to get fresh bread and fruit every few days, but feeding our family on the road doesn't really cost any more than feeding them at home.
As I planned this trip one thing that I looked most forward to was biking the Route of the Hiawatha.  (We cut our time at Glacier by a day to do this.) It is 15 miles of train track that has been converted into a bike trail.  It is a 2% downward grade and starts off with a tunnel that is 1.66 miles long.  We had to wear headlamps and jackets for the tunnel.  It never gets over 39 degrees in the tunnel, it is just like a cave.  We passed through a total of 10 tunnels and 7 sky-high trestles. The best part is that there is a shuttle at the bottom that returned us back to the long tunnel and we rode back through it a second time to create a 17 mile, mostly very slightly down hill, bike ride in one of the most scenic mountain trails I could ever have imagined.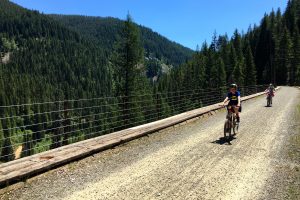 Riding the Route of the Hiawatha was a fantastic experience.  There are a couple of things I wish we would have done differently.  First, I wish we would not have rushed to catch the first shuttle.  There are only guaranteed shuttles every 90 minutes.  We thought 2 hours on the trail would be more than enough, but we should have planned to take longer and not catch that first shuttle.  We had to really push at the end.  We made the shuttle and all was good, but it was really hard on Ali.  Which is my second regret.  Even though it is slight down hill grade Ali still had to peddle really hard on her crappy kid bike.  We should have upgraded her bike to one with gears before doing a long ride like that.  She was impressive and she did it, but it would have been much more fun for her if she didn't have to peddle so hard.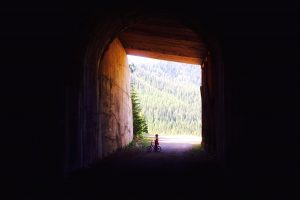 We were done by noon, had our lunch at the trail head, and headed to our next stop at the Grand Coulee Dam Spring Canyon Lake Roosevelt National Rec Area.  I don't have any pictures of us playing in the lake because I was swimming too.  It was a beautiful day and a nice lake.  We enjoyed the cool off.  The RV has a shower that is totally adequate, but I don't like the idea of showering the whole family in there and making the RV wet so we used the outside shower on the RV allot.  It worked awesome for spraying everyone off after swimming in lakes and even for shampooing.  It is hooked up to the water heater so I'd get everyone wet soap them up and then rinse them off.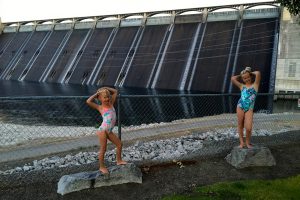 The Grand Coulee Dam does a really cool laser show every evening.  They let out the water, which alone was really cool to see, and then they project a show onto the walls of water.  It was the perfect place to spend the night and experience that.
On our way to the Northern Cascades we passed through an adorable tourist town called Winthrop Washington.  Thankfully we had a freezer full of popsicles so when we got out we didn't have to buy ice cream.  Everyone was happy with their popsicle.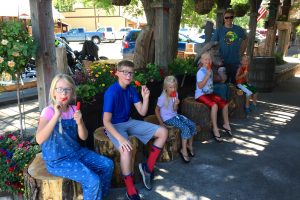 The biggest surprise of the trip was how incredible the Northern Cascades National Park was.  Staying north and taking the scenic route through Washington was a second thought, and I am SO GLAD we did it.  It was unlike any National Park I've ever experienced.  There was no entrance gate, it went along Scenic Highway 20. This is really what it looked like, no photoshop.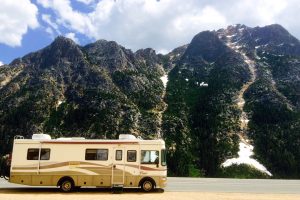 Josh's favorite treasure of the trip was the awesome little "hike" (one mile flat walk) called the Lake Rainy Trail to this beautiful lake.  We just had no idea how incredible it would be.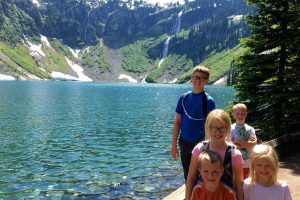 Lake Diablo was breathtaking.  Unfortunately it was really windy so we didn't enjoy it as much as we otherwise would have, but the beautiful green color of the lake was incredible. We didn't want to have any regret or move on too quickly so despite the wind most of the family got in the water. It must be a big secret because there were hardly any people, but the Northern Cascades did not disappoint!!